Book presentation with Łukasz Stanek
Fri 29 Jul 2022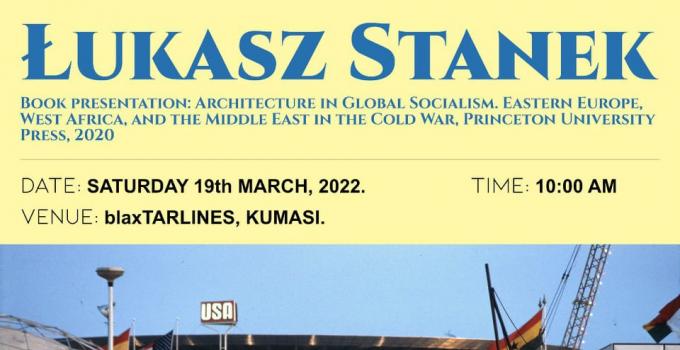 blaxTARLINES, in collaboration with SCCA Tamale, Opoku Ware II Museum and the Department of Painting and Sculpture, KNUST, is honored to host  Łukasz Stanek for a presentation on his book titled 'Architecture in Global Socialism. Eastern Europe, West Africa, and the Middle East in the Cold War', Princeton University Press, 2020. 
Date: Saturday, 19 March, 2022
Venue: blaxTARLINES, KNUST campus
Time: 10am GMT
About the book:
This book rewrites the history of global urbanization and its architecture during the Cold War through the lens of socialist internationalism. Architecture in Global Socialism describes how local authorities and professionals in these cities drew on Soviet prefabrication systems, Hungarian and Polish planning methods, Yugoslav and Bulgarian construction materials, Romanian and East German standard designs, and manual laborers from across Eastern Europe. Stanek explores how the socialist development path was adapted to tropical conditions in Ghana in the 1960s, and how Eastern European architectural traditions were given new life in 1970s Nigeria. He looks at how the differences between socialist foreign trade and the emerging global construction market were exploited in the Middle East in the closing decades of the Cold War. Stanek demonstrates how these and other practices of global cooperation by socialist countries—what he calls socialist worldmaking—left their enduring mark on urban landscapes in the postcolonial world.
Łukasz Stanek is Professor of Architectural History at the University of Manchester, UK, and Senior Fellow, The Maria Sibylla Merian Institute for Advanced Studies in Africa (MIASA), the University of Ghana in Legon, Accra, Ghana. Stanek authored Henri Lefebvre on Space: Architecture, Urban Research, and the Production of Theory (University of Minnesota Press, 2011) and Architecture in Global Socialism: Eastern Europe, West Africa, and the Middle East in the Cold War (Princeton University Press, 2020), which won the Alice Davis Hitchcock Medallion by the SAH GB and the RIBA President's Award for History & Theory Research. Besides Manchester, Stanek taught at the ETH Zurich, Harvard University GSD, and the University of Michigan.
For photos please click here: https://www.facebook.com/blaxtarlines/posts/pfbid02RSii6WnFdo8iGYtn2WduUbbfTVBFMGuqkM8yx3nroLEbYXkkJxxHRVyiMoUC1REel