Ibrahim Mahama Public Lecture at KNUST Great Hall
Fri 29 Jul 2022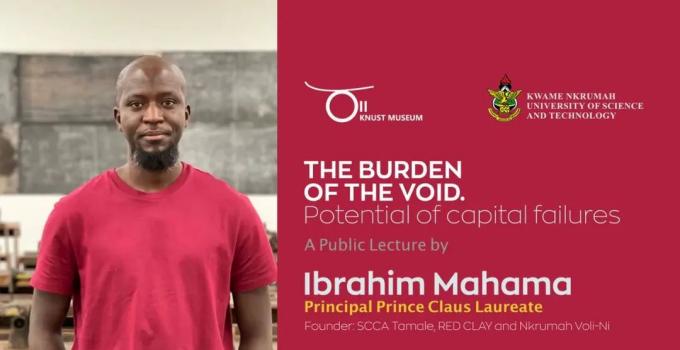 All are warmly invited to attend the public lecture of internationally renowned Ghanaian artist, Ibrahim Mahama, titled "The Burden of the Void: Potential of Capital Failures". 
The lecture takes place today, Thursday 28th April, 2022, 5:00pm GMT at the KNUST Great Hall. Entry is free. 
The event is under the auspices of Opoku Ware II Museum, KNUST supported by the College of Art and Built Environment, Dept. of Painting & Sculpture, blaxTARLINES KUMASI, Savannah Centre for Contemporary Art, Red Clay and Nkrumah Voli-Ni. 
Ibrahim Mahama bio:
Ibrahim Mahama (b.1987 in Tamale, Ghana) is an artist who lives and works in Accra, Kumasi and Tamale. He uses the transformation of materials to explore themes of commodity, migration, globalisation and economic exchange. In 2020, Mahama was honored as Principal Prince Claus Laureate by the Prince Claus Fund for Culture and Development in The Netherlands. His work has appeared in numerous international exhibitions including NIRIN, 22nd Biennale of Sydney (2020); tomorrow, there will be more of us, Stellenbosch Triennale (2020); Future Genealogies, Tales From The Equatorial Line, 6th Lubumbashi Biennale, Democratic Republic of the Congo (2019); Parliament of Ghosts, The Whitworth, University of Manchester (2019); Ghana Freedom, inaugural Ghana pavilion, 58th Venice Biennale, Venice (2019); Labour of Many, Norval Foundation, Cape Town (2019); Documenta 14, Athens and Kassel (2017); All the World's Futures, 56th Venice Biennale, Venice (2015); Artist's Rooms, K21, Düsseldorf (2015); Material Effects, The Broad Art Museum, Michigan (2015); An Age of Our Own Making, Kunsthal Charlottenborg, Copenhagen and Holbæk (2016) and Fracture, Tel Aviv Art Museum, Israel (2016). In March 2019, Ibrahim Mahama opened the artist-run project space Savannah Centre for Contemporary Art (SCCA) in Tamale, Ghana, followed by the opening of a vast studio complex, Red Clay, in nearby Janna Kpeŋŋ in September 2020. Encompassing exhibition space, research facilities and an artist-residency hub, both sites represent Mahama's contribution towards the development and expansion of the contemporary art scene in his home country. In April 2021, Mahama opened a renovated silo, Nkrumah Volini, in Tamale. This is the third educational institution he has opened in Northern Ghana since over the past two years.
For more information about the artist visit: https://whitecube.com/artists/artist/ibrahim_mahama