Kwasi Ohene-Ayeh gives public lecture at MARKK Museum in Hamburg, Germany
Thu 28 Jul 2022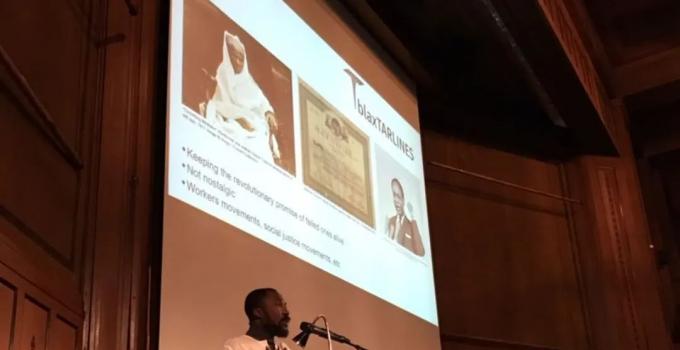 On 26th May, 2022, Kwasi Ohene-Ayeh, assistant research fellow at the Department of Painting & Sculpture, KNUST, gave a public lecture at the Museum am Rothenbaum – Kulturen und Künste der Welt (MARKK) in Germany. The presentation was titled blaxTARLINES: Giving Commons Refuge and Refuge Commons where he discussed the history of the Department of Painting & Sculpture in relation to its affiliated contemporary art institution blaxTARLINES. 
Title: blaxTARLINES: Giving Commons Refuge and Refuge Commons  
Synopsis: 
blaxTARLINES KUMASI is a trans-generational and trans-cultural community affiliated to the Department of Painting & Sculpture at the Kwame Nkrumah University of Science and Technology (KNUST) in Ghana. It is an experimental incubator of contemporary art and a sharing community. With lineage of radical art and community projects dating back to the 1990s, the coalition operates on the universalist principle of preemptive equality towards economic and intellectual emancipation. Finding kinship in the spirit put forward in Fred Moten's and Stefano Harney's theory of the "Undercommons" (Moten & Harney 2013), Kwasi Ohene-Ayeh will speak about the silent revolution in art education and art practice in Ghana vis-à-vis the fugitive model put into practice by blaxTARLINES KUMASI to tactically respond to structural crises and neoliberal hopelessness. 
Bio:
Kwasi Ohene-Ayeh is a curator and critic based in Kumasi, Ghana. His work is compelled by the revolutionary hope proposed by artist-pedagogue karî'kạchä seid'ou to "transform art from the status of commodity to gift". He is one of the artistic advisors for the 59th Venice Biennale (International Art Exhibition in 2022), under the artistic direction of Cecilia Alemani. Ohene-Ayeh co-organizes Kelas Bareng/Joint Class (since 2020)— an ongoing online experimental educational initiative between Gudskul (Indonesia), Städelschule (Germany), blaxTARLINESKUMASI (KNUST, Ghana) and Nordland Kunst og filmhøgskole (Norway). He is recipient of the ACASA Award for Curatorial Excellence (2021), and headed the curatorial team for Akutia: Blindfolding the Sun and the Poetics of Peace (A Retrospective of Agyeman Ossei 'Dota') organised by Savannah Centre for Contemporary Art (SCCA) Tamale and Red Clay, in Ghana (2020-2021). He also co-curated the 12th edition of Bamako Encounters: Biennale of African Photography themed Streams of Consciousness: A Concatenation of Dividuals in Mali (2019-2020). Ohene-Ayeh is presently a lecturer at the Department of Painting & Sculpture, KNUST in Kumasi. 
For more information on the talk please visit: https://markk-hamburg.de/veranstaltungen/artist-talk-3/